COURSES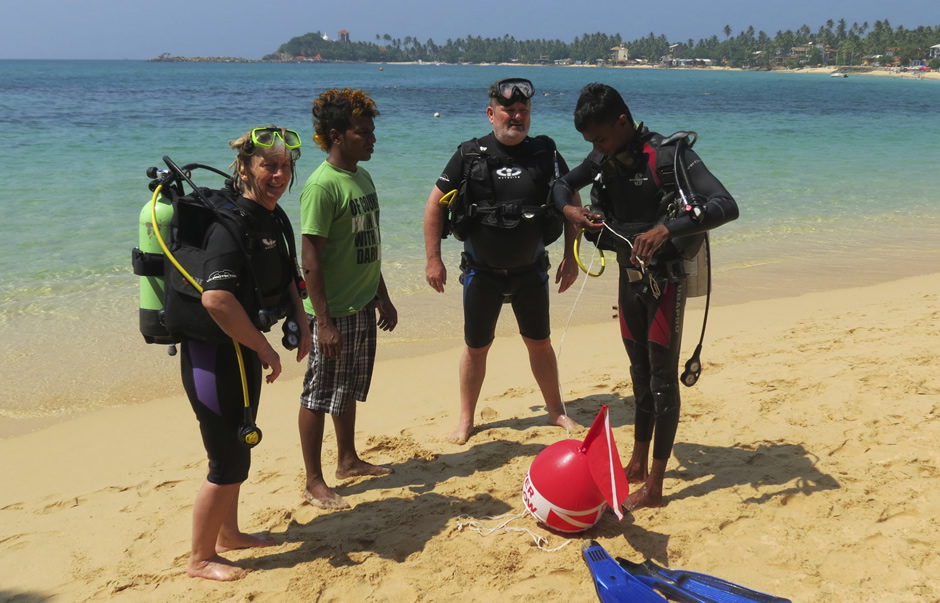 It takes a little getting used to, as after all we weren't designed to do that, but after a few minutes of wonder, most first timers realize how easy and how much fun scuba diving really is.
If you want to find out but aren't quite ready to take the plunge into a certification course our discover scuba diving will let you try scuba to see if you like it. Pearl Divers offer a unique version of this program, either in a pool or another body of water. While not an actual scuba certification, during the discover scuba diving experience you'll learn how to use scuba equipment in shallow water and get a quick and easy introduction to what it takes to explore the underwater world.
Normally, the biggest challenge our instructors have with the discover scuba diving program is not getting you into the water, but coaxing you out when the course is over!
It's all about fun and for you, a wonderful new world.
This is the most popular scuba diving course,which you need for your PADI scuba certification. If you've always wanted to learn how to scuba dive, discover new adventures or simply see the wondrous world beneath the waves, this is where it starts.
Your PADI Open Water certification allows you to dive to 18m maximum depth with a buddy of equal or greater experience, in conditions that are as good as (or better than) those in which you learned to dive.
The theory covered in the course develops basic principles and diving procedures. You learn how pressure affects your body, how to choose the best gear and how to plan dives. We try to make the theory enjoyable but the theory part is a bit like being back in school. We know you just want to get into the water but safety is the most important factor and without all the theory, you cannot dive safely.
PADI's open water dive materials cover what you need to know about basic scuba diving skills, terminology and safety procedures. For each concept you'll read a description and watch a video demonstration. Then you'll jump in the water to practice these skills with your instructor. Later, as a certified diver, you can use the course materials as a reference guide for future diving adventures and to review what you learned.
It will take 3 days for complete the course. Finally, a 18 meter deep dive and an exam. You will need a minimum of 45 marks to pass this exam but we know you will pass as we at Pearl Divers are very good teachers !
The minimum age for this course is 10 years old.
ADVANCE OPEN WATER DIVER COURSE


The AOWD is now the second level qualification. The AOWD is described by PADI as refining these skills, allowing the diver to explore a broader variety of diving to a maximum of 30 m (100 ft) deep. Prior to certification as a PADI Advanced Open Water Diver, you must successfully complete at least five adventure dives.
The two mandatory dives are "Deep Adventure Dive" and "Underwater Navigation Adventure Dive ".The other three dives that you complete can be chosen from a wide range of adventure dives and the decision as to which dives you complete will be based on what is available at your dive location and what your PADI Instructor is able to offer. Our most popular elective dives include night diver, peak performance buoyancy, wreck diver, boat diver and underwater naturalist to name but a few.
You need to be a minimum of 12 years old, a certified entry-level diver and fit for diving to be certified as a PADI Advanced Open Water Diver.
It takes 2.5 days to complete the AOWD course. Also it includes practical aspects of deep diving, physiological effects of deeper scuba diving, more ways to use your underwater compass, how to navigate suing kick-cycles, visual landmarks and time and how to better use your dive computer.
PADI RESCUE DIVER COURSE + EFR


The Rescue Diver course is the third level qualification and Pearl divers have enough facilities to conduct this course. It is designed for anyone who wants to learn how to prevent, and if necessary, manage dive emergencies. This course will expand your knowledge and experience level currently you have.
It trains you to look beyond what you see and consider the safety and well being of other divers. Following a rescue diver course is a challenging, demanding but a very rewarding course.
Divers can learn how to solve problems and how to manage them if they occur. Under this course we teach you how to self rescue, recognize and manage stress in other divers, emergency management and equipment issues, rescue panicked divers and rescue unresponsive divers.
There are PADI Rescue Dive specific materials to complete the course. Rescue Diver training will prepare you to prevent problems and, if necessary manage dive emergencies. Many divers say this is the best course they've ever taken. It encompasses advanced dive theory, rescue techniques such as prevention, readiness to respond, first aid, CPR, decompression injuries, underwater searches, specialized equipment, equipment care and maintenance, pool and open water sessions. It will take 4 days to complete the course.
The Dive master course focuses on developing your diving skills, rescue skills, and professional knowledge of dive theory. You will expand on your problem solving skills developed during the PADI Rescue Diver program, and experience supervisory situations with both students and certified divers. You will receive individual coaching and work with our instructors while assisting in the training of students. Eventually you will be leading dives yourself. Even it takes 3 weeks to finish the total program
During the PADI Dive master program, we teach dive leadership skills through both classroom and independent study. You complete water skills and stamina exercises, as well as training exercises that stretch your ability to organize and solve problems. You put this knowledge into action through an internship or series of practical training exercises. This program covers all over areas of the diving sector.


• Knowledge development: 12 topics ranging from dive theory to assisting student divers in training
• Prerequisites: PADI Advanced Open Water Diver (or qualifying certification from another training organization)
• PADI Rescue Diver (or qualifying certification from another training organization), 20 logged dives, 18 years old.
• Minimum number of logged dives: 60 for certification as PADI Divemaster.
• Supervise both training and non training related activities by planning organizing and directing dives.